Home
>
Hot Devices
>Google Nexus 9 vs Google Nexus 7 | How to Watch DVD on Google Nexus 9/7
About DVDSmith
Expert Recommend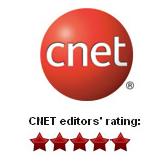 Hot Devices
Popular Topics
How to Play DVD Movies on Google Nexus 9/7?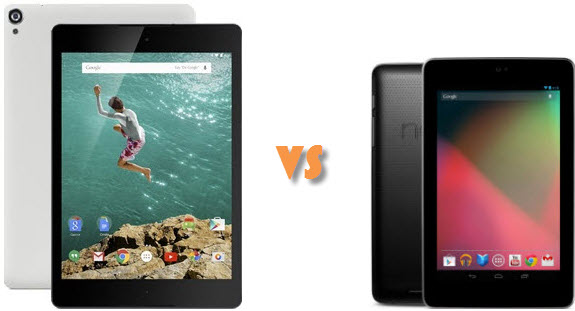 After several months of forecasts and rumors floating around, Google announced the HTC-built Nexus 9 recently. The new tablet is available to preorder from October 17 and will land on stores on November 3 with price $399 (16GB) and $479(32GB). With tons of tablets readily available for Android and Apple users, what makes the new Google Nexus 9 stands from the rest? And what new features does Google Nexus 9 deliver compared with last year's Google Nexus 7?
Hot Research: Mirror DVD to TV with Chromecast, DVD to iPad Air 2, iPhone 6/6 Plus, DVD Cloner & Ripper for Yosemite
Even though the above two tablets come from same Google, Nexus 9 (HTC-made) and Nexus 7 (ASUS-developed) are made by two different companies with some different specs. The following comparison may help you to more intuitively understand the differences between Google Nexus 9 and Nexus 7.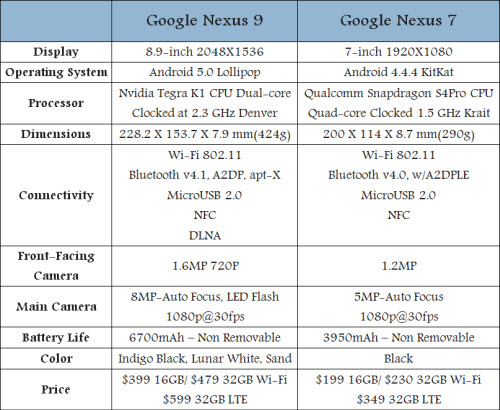 Google Nexus 9 is better? Or Nexus 7 is more cost-effective? It all depends on what table size you prefer and for what task you want a tablet. Whatever you are going to pick up a new Google Nexus 9 or holding the Nexus 7, one thing you must desire is that playing DVD movies one the tablet. Is this likely? And how? Any DVD Cloner Platinum will show you the best way to rip DVDs to Videos for enjoying on Google Nexus 9/7.
What is Any DVD Cloner Platinum? It is the first DVD converter that ripping DVD movies to videos in plain formats like MP4 supported by Google Nexus 9/7 and other Andorid 5.0 Lollipop tablet with all copying protections removed clearly; the software is also a DVD cloner for Windows users to clone decrypted DVD disc to blank DVD and hard drive.
How to Convert DVD Movies to Google Nexus 9/7 with DVDSmith?
Step 1: Download and install Any DVD Cloner Platinum on your PC;
Step 2: Launch the DVD to Nexus 9/7 ripper and insert a movie DVD to play on Google Nexus 9/7 or other Android 5.0 tablets, and it will recognize the longest title automatically;
Step 3: Go to "DVD Ripper" and choose output format. Here is "Normal" mode to rip DVD disc to MP4 format, or you can choose "Google Nexus Tablet" directly;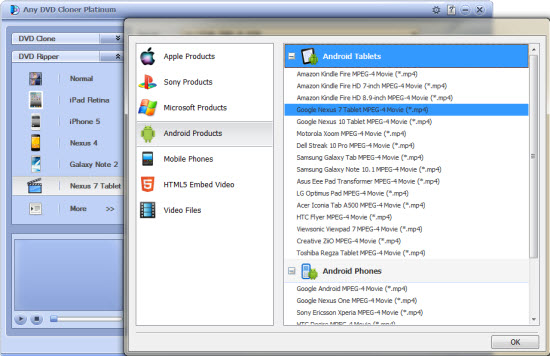 Step 4: Click "Start" button to start, and then get the ripped video in "Target" folder.
Any DVD Cloner Platinum is an all-in-one DVD converter to let Windows users clone DVD discs under protection of CSS and region codes to blank DVD, DVD folder and ISO file, and rip DVD movies to video in common formats for playing on portable devices and media players with no limits!
Related Articles
* Mirror Movie DVD to TV with Chromecast
* Choose a Good DVD Ripper for Yosemite
* How to Rip DVD Movies to iPad Air 2?
Copyright © 2005-2023 DVDSmith Inc., All Rights Reserved.